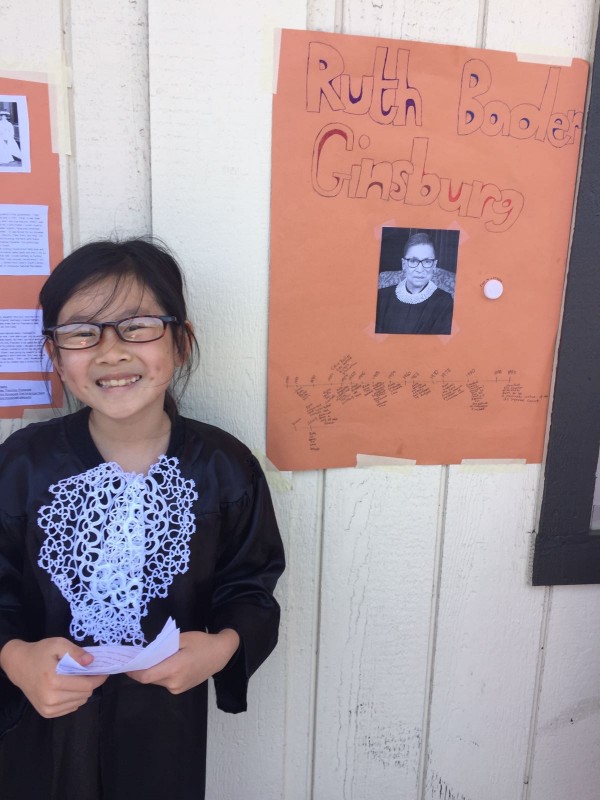 Hi, my name is Ruth Bader Ginsburg. I am the first Jewish female and second female overall to serve as a Supreme Court Justice.
I was born as Joan Bader on March 15, 1933 in Brooklyn, New York. My mom was Celia Bader and my dad was Nathan Bader. Before I was born, my older sister Marilyn died of meningitis when she was six years old. My mom was a housewife while my dad owned a clothing store.
Growing up as a Jewish girl, I was not given the same opportunities as other children. Everywhere I went, I saw signs that said No Mexicans and No Jews. It was not fair.
Both of my parents did not go to college and they wanted me to have a better life. They taught me to love learning, to care about people and to work hard for whatever I believed in. I believe that girls should have the same opportunities as boys.
As a result, I worked very hard in school and I was chosen to give a speech at my graduation. However the day before my graduation, my mom died of cancer. Not only did I not go to graduation but I did not give my speech.
A few days after my mom died, I left for college at Cornell University. While I was there I met my future husband, Martin David Ginsberg. He was one year ahead of me.
Martin was funny and could make me laugh. We fell in love and both decided to go to law school after college.
After I graduated from college on June 23, 1954, Martin and I married at the home of his parents. A few days later, Martin went into the Army and we moved to Fort Sill, Oklahoma. There, I got an office job and did extremely well. Then I got pregnant and when my employer found out, he gave me a lower-level job. Once again, this was not fair.
In 1955, I gave birth to a baby girl whom I named Jane Carol. After giving birth, I applied to Harvard and was accepted. In 1958, Martin graduated from Harvard and found a job in New York City. I transferred schools from Harvard to Columbia Law School to join him.
I was nicknamed "Ruthless Ruthie" for the way I did my schoolwork by attacking it. In 1959, I graduated from Columbia Law and started looking for a job. After applying to many jobs and never getting a job, I finally found a job as a law professor. I was an assistant professor at Rutgers University of Law.
Two years later, I got pregnant with my second child whom I named James. This time, I kept the fact that I was pregnant a secret. I taught at Rutgers for nine years and then in 1972, I became a full professor at Columbia Law School. Nineteen years later, my daughter also became a law professor.
While teaching at Columbia Law, I argued six important sex discrimination cases to the Supreme Court but only won five of the cases. Then, President Jimmy Carter appointed me to the U.S. Court of Appeals for the District of Circuit which was the second highest court in the country.
I worked there for thirteen years as a judge. On March 19, 1993, Justice Byron White from the Supreme Court said he was going to retire from the Supreme Court in June. Bill Clinton had to pick a new Supreme Court Justice at the Supreme Court.
His staff made a list of more than fifty names on it. Bill Clinton settled down on three top choices: Bruce Babbitt, Stephen G. Breyer, and the third choice was I, Ruth Bader Ginsburg. At 11:33 P.M on Sunday, Clinton telephoned me to offer a job as a Supreme Court Justice. I accepted and the next day, Clinton held a Press conference and I gave a speech.
I gave a lot of thank yous to many people and for my last thank you, I said, " I have a last thank you. It is for my mother, Celia Amster Bader, the bravest and strongest person I have ever known, who was taken from me much too soon." And I am now the oldest Supreme Court Justice on the court. I have mostly disagreed with Justice Antonin Scalia but we are still friends.
A few of my accomplishments were that I was the only person in my family that went to college. Also, I became the second female Supreme Court Justice.
I wrote a biography about myself, too. I persevered because men did not want another female to become a Supreme Court Justice. I had to work twice as hard and ignore them. Also, I had to apply to many jobs after getting demoted just because I was having a baby. That is now against the law. I was one of the first females to get accepted at Harvard Law Review and the first female professor at Columbia Law School.
Here's an interesting fact.
When I vote with the winning side on a case, I wear a special lace collar. When I disagree with a case, I wear a different collar to show my dissent. Dissent means to disagree. A few of my famous quotes are: "Fight for the things that you care about but do it in a way that will lead others to join you." and " I really concentrate on what's on my plate at the moment and do the very best I can."
I chose Ruth Bader Ginsburg because I wanted to know more about her. I think Ruth Bader Ginsburg is a very interesting person to learn about. She was treated unfairly just because she was a woman.
She and Martin believed that men and women should be treated equally. In fact, they believed in equal rights for everyone and I agree with them. If Justice Ginsburg had not helped to get women's rights, women would still be treated unfairly by men. When Ruth was young, she loved opera but was told to lower her voice when she sang, but she still sang loudly. She was also told to do baking and sewing and the boys got to take shop and handle a saw. She wanted to do those classes but was only allowed to do tasks women were supposed to do. She protested and that is why I chose Ruth Bader Ginsburg.
Bibliography
Levy, Debbie Ruth Bader Ginsburg Makes her Mark. New York: Simon and Schuster Books for Young Readers 2016
Carmon, Irin and Knizhnik, Shana Notorious RBG The Life and Times of Ruth Bader Ginsburg. New York: 2015
Roberts, Jack Ruth Bader Ginsburg Supreme Court Justice Connecticut: The Millbrook Press
1994
http://www.usnews.com/…/10/…/10- things you didn't know about Ruth Bader Ginsburg
http://www.notablebiographies.com/Gi-He/Ginsburg-Ruth-Bader.html